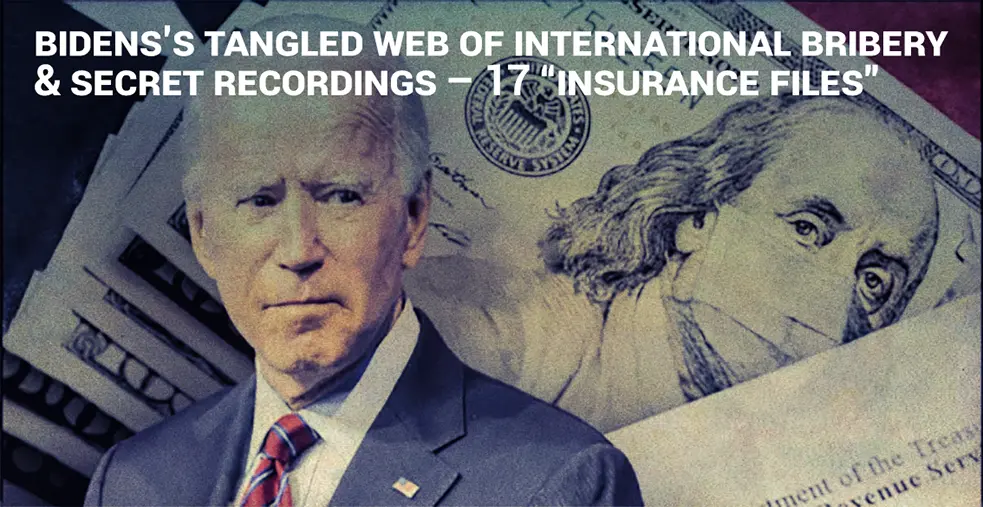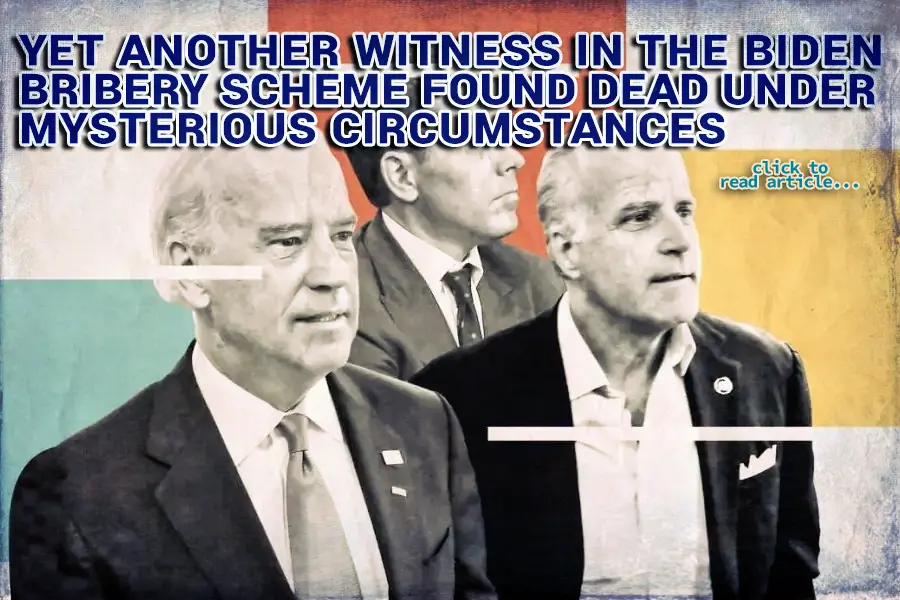 Biden Corruption Whistleblower, Dr. Gal Luft, who recently went into hiding in fear for his life, reveals in a 14 minute video, how a mole inside the FBI was tipping off Hunter Biden and his Chinese business partners.

Dr. Luft came to the DOJ to alert them of potential crimes being committed by the Biden family, however, instead of looking deeper into the matter, the DOJ worked to cover up Luft's allegations.

Its funny how the Department of 'Justice' will search every nook & cranny for a crime that doesn't exist when Trump is the target, but won't even look at evidence that relates to the Biden crime family, despite being handed everything on a silver platter.
Just days after releasing that video, Dr. Luft is indicted by the Department of (in)Justice, yet still no interest in Hunter or his father. Despite already being enough evidence in the public domain, to warrant numerous charges being brought against them both. Just look at this report of Hunter Biden's laptop, by MarcoPolo. Its a large file, so please be patient. 
Rep. James Comer says six banks, including JP Morgan, Bank of America, and Wells Fargo, submitted over 170 suspicious activity reports to the Treasury Department regarding the Biden family, alleging their involvement in money laundering, human trafficking, and tax fraud.
The American banks also raised concerns about wire transfers received by the Bidens from foreign state-owned entities, notably from the Chinese government, allegedly for the purpose of money laundering and tax evasion. The foreign wires were found to be directed towards Biden's business associates before being funneled through 20 shell companies associated with the Bidens. Subsequently, the funds were distributed among various Biden family members. SARs are vital documents that financial institutions must file with the Financial Crimes Enforcement Network (FinCEN) when they suspect any cases of money laundering or fraudulent activities.
Rep. Comer highlighted one specific SAR linked to a $3 million wire from China to Biden's business partner, Rob Walker. This money was received in an inactive account that had maintained a $50,000 balance for ten years before the significant wire transaction from China. Within just 24 hours of receiving the wire, Walker initiated incremental payments to several Biden shell companies, eventually disbursing funds to four different Biden family members.
Comer explained that concealing the source of money through the use of shell companies to deceive the IRS is considered money laundering and racketeering. He noted that if the funds were intended for legitimate purposes, they could have been wired directly to Hunter Biden, but instead, they were routed through business partners and various companies with no clear legitimate purpose.
Senator Ted Cruz asked, "So the Chinese Communist government was sending the money?"
Rep. Comer replied, "Yes. If Hunter Biden was doing something legitimate for China, they could have just wired the money to Hunter Biden, but they didn't," he explained, "They sent it to a company called Robinson Walker. Then they wired it to a company called Owasco. Then they wired it to another company called Bohai. These companies don't do anything with the money."
Senator Cruz responded, "It's just a bucket to pour the water in, then a bucket to pour it into somewhere else?"
Rep Comer said, "That's exactly what it is and it was organized. This is like organized crime."
When the corporate media foolishly asks where is the evidence that the Bidens committed crimes? American banks have submitted hundreds of suspicious activity reports on the Biden family, alleging their involvement in human trafficking, money laundering, and tax fraud.
Congressional investigators have obtained bank account records and wire transfer statements on twenty shell companies owned by the Bidens, which were allegedly used for laundering illegally obtained money from China, Russia, Ukraine, Romania, and Kazakhstan as unregistered foreign agents. This evidence is supported by hundreds of thousands of emails, tens of thousands of text messages, photographs, audio recordings, calendar statements, and ten years of data from Hunter Biden's laptop, which the FBI took into its possession in 2019.
@MarcoPolo501c3
published a comprehensive "Report on the Biden Laptop," documenting 459 alleged crimes involving the Biden family and their associates, including 140 business crimes, 191 sex crimes, and 128 drug crimes. A $1,000 reward is offered for any verifiable corrections, but thus far, no crimes have been disputed.
In addition, credible IRS whistleblowers have accused the Justice Department of obstructing the Hunter Biden investigation by blocking felony charges, search warrants, and interviews while preventing any investigation of the President and his family.
Furthermore, just yesterday, a judge highlighted an unprecedented lenient deal offered by the Justice Department to Hunter Biden, which would result in no felony charges or jail time for tax fraud and lying on a gun form.
This DOJ deal would have also granted protection to the First Son from any future prosecution related to illegally obtained money from foreign nations as an unregistered foreign agent.
What is more corrosive and destructive to our nation than a politicized Justice Department that applies different legal standards depending on whether one's last name is Trump or Biden?